Defibtech LifeLine
Technologically advanced enough to include all mission critical features necessary to provide the most advanced treatment for Sudden Cardiac Arrest. Yet so simple and unintimidating to use that even non-medical personnel can effectively save lives.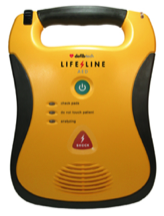 Designed for the real world
Lightweight, fully integrated design with no lids or moving parts that would confuse or delay a rescue; a roomy handle big enough even for gloved hands, and rubberized surfaces to ensure a sure grip in an emergency.

A Personal Coach at Your Side
While you are in the middle of the rescue, you may not remember how many compressions to provide and the timing between each one. The LifeLine has a built-in metronome that counts out the beat so you know what to do and when to do it.
Award-Winning Ergonomic Design

Compact, portable and lightweight-under three pounds-the Lifeline represents the newest generation in a family of defibrillators that have won a number of industry awards for design and innovation.
Ruggedness & Durability

The LifeLine's ruggedness is measured by a specific set of criteria. It is one tough little unit, coming out on top in some of the most demanding environmental tests.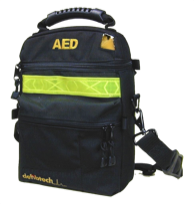 Is Your Device Ready for Rescue? The Readiness Indicator Lets You Know
When sudden cardiac arrest strikes, there is no time to lose. You need to be sure that your AED is ready for rescue. The LifeLine AED continuously shows it's status through a flashing indicator light. You can also initiate a manual self test at any time by simply holding the green on/off button.
Easy to Maintain

One of the major problems with most AEDS is maintenance. Not with the Lifeline. Replacing the pads or battery is easy, and the LifeLine will give you plenty of notice when a battery change is needed.
Safe and Effective

The Lifeline uses biphasic technology, a clinically proven waveform and algorithm to deliver shocks and save lives. Evaluation in hundreds of publications has demonstrated this technology to be the safest and most effective when it comes to saving lives.