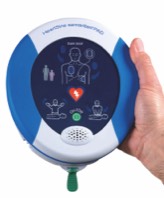 HeartSine Samaritan
Sudden Cardiac Arrest can happen to anyone, anywhere, at any time. When it happens, HeartSine's AED technology can help make the difference between life and death. Since 1998, HeartSine has been designing and manufacturing Automated External Defibrillators for the lay, minimally trained rescuer who is often first at the scene. Available in 23 languages and saving lives in more than 40 countries, their clinically advanced, reliable, easy-to-use AED devices are the best way to prepare for the worst. Make sure you don't settle for less. It's lifesaving, pure and simple.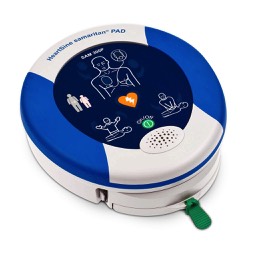 HeartSine Samaritan 300P

The 300P is a clinically advanced, lightweight, compact, easy-to-use, and portable AED. Audio and visual prompts guide the user step by step through the rescue process. From trained first aiders to professional responders, the 300P is designed so that anyone, anywhere, anytime can save a life.
How it Works
The HeartSine samaritan PAD is an automated external defibrillator (AED) that analyzes the heart rhythm and delivers an electrical shock to victims of Sudden Cardiac Arrest in order to restore the heart to normal rhythm.
The rescuer turns on the HeartSine samaritan PAD.
Clear, calm instructions guide the rescuer through visual and audio prompts.
The system guides user from pad application to shock delivery, if required.
In addition, a CPR tone and flashing icon coaches the rescuer in delivering chest compressions according to ERC 2010 Guidelines.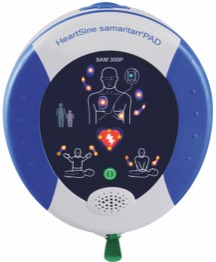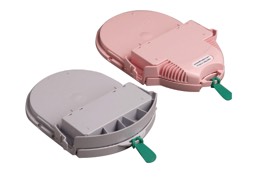 Unique Integrated Pad/Battery Pack

The 300P uses HeartSine's practical Pad-Pak™, which incorporates the battery and electrodes in a single-use cartridge – meaning only one expiration date to monitor and only one item to replace after use. The 300P is suitable for use on adults and children. For children younger than 8 years or weighing less than 25kg (55 lbs.), a Pediatric-Pak™ is available.