Life Corporation Oxygen Systems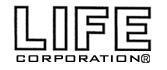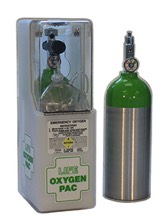 Life Oxygen Pac
Simple and EASY TO USE,
External Two-step Instructions and Clear Cover
Inhalator: administer supplemental oxygen
for a breathing victim
Resuscitator: oxygen enriched mouth-to-mask
CPR for a non-breathing victim
Easily Portable with Convenient Handle
20" x 6" x 9" - 16lbs - Aluminum Cylinder
Wall Mount for Recognition and Accessibility,
always available on display for easy access
Simple "On-Off" Control Lever
Constant Reading Supply Gauge
(other units must be turned on to read gauge)
90 Minute Supply @ 6LPM - 566 liters Oxygen
Resuscitation LIFE® CPR Mask
with One-Way Valve fits both adult and child
Cylinder is easily disposable/replaceable
or refillable at local gas distributors.
Tight Seal Protects Unit from Dust and Moisture
Units Come Ready-to-Use
full of oxygen with wall brackets and screws
5 Year Warranty
Life SoftPac
Lightweight portable companion for your AED
to provide Emergency Oxygen to a breathing victim
before the onset of fibrillation, oxygen enriched CPR
to a non-breathing victim, or continued supplemental oxygen after successful defibrillation.
Light Weight...Only 6 Pounds!
4 1/2" D x 7 1/2" W x 15" H
Comfortable Handle & Shoulder Strap
Wall Mount Hook for easy access
Constant reading supply gauge through window (other units must be turned on to read gauge)
40 Minute Supply @ 6 Liters Per Minute
250 Liter Aluminum "C" Cylinder
Cylinder is easily disposable/replaceable
or refillable at local gas distributors
Simple External Two-step instructions
Inhalator: administer supplemental oxygen for a breathing victim
Resuscitator: oxygen enriched mouth-to-mask CPR for a non-breathing victim
5 Year Warranty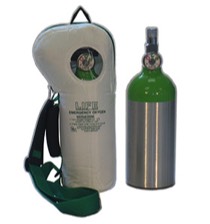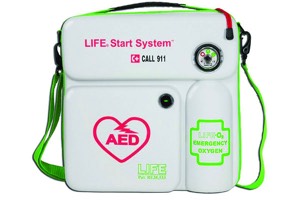 LIFE®StartSystem™
for industrial and office workplace first-aid programs
and first responders, provides 15+ minute supply for first-aid emergency oxygen administration, and if needed before fibrillation or after successful defibrillation. Smaller than a briefcase at 12"x12"x3" it weighs only 8 pounds. It is durable and water resistant, complete with LIFE-O2® Emergency Oxygen unit with 6&12 LPM "Norm & High" Regulator which provides AHA recommended 100% inspired oxygen. Disposable/Replaceable (or refillable) 113 liter Cylinder, non-prescription, shipped full ready-to-use, with knurled-knob On/Off valve, constant reading supply gauge with simple full-to-empty symbols, always visible through clear window,
and LIFE® CPR Mask that universally fits Adult & Child.
(Purchase
Philips OnSite AED
separately)