HealthCare Provider Training
Cardio Partner Resources provides the American Heart Association Basic Life Support for HealthCare Providers program. This program contains the most up-to-date science and techniques for CPR and AED use. It provides training for both one and two rescuer CPR. The BLS program is the universally accepted CPR training for healthcare providers, and successful completion provides the student with a 2-year certification card.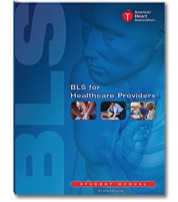 Basic Life Support for HealthCare Providers
The Basic Life Support (BLS) for Healthcare Providers Classroom Course is designed to provide a wide variety of healthcare professionals the ability to recognize several life-threatening emergencies, provide CPR, use an AED, and relieve choking in a safe, timely and effective manner.